8 years on, in a category where most are jumping on the bandwagon of no deposits, freedom to decorate and being pet friendly, we have had to look inward and craft a truly differentiated message. Taking learnings from our consumer research on the 'Future of Living', our latest campaign focuses on what makes us different and seeks to position Get Living as the category leader. This message is then communicated using emotional cues that are anchored by product/service benefits. The campaign messaging emphasis has been on Wellness with accents on Safety and Comfort. The imagery and tone of voice express authenticity.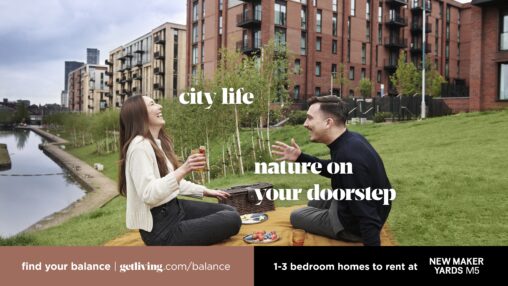 Traditionally, renting has come with associated negative connotations. Those that often imply a compromise in some form – space, décor, quality of life, wellness, location…the list goes on. Add to that the times we are in, and you will note that now more than ever, we are all trying to find our balance. Maybe your living is – peace and quiet in the buzz of a city; a home with character, your character; urban living with nature on your doorstep. Whatever your living is, with Get Living you can find your balance and go after what you want – build a life, even raise a family, create a lifestyle that others would aspire to and join a community.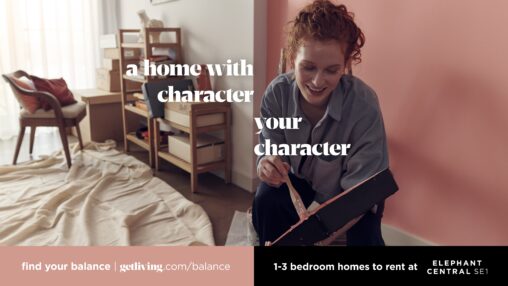 We offer deposit-free, 1-4 bedroom homes to rent across 3 unique neighbourhoods in London and Manchester with ample green space.  Spacious and fully furnished, with the freedom to decorate. Renting with us will not stop you from truly putting your stamp on your home.
What's more – all of our neighbourhoods are pet-friendly, and we charge no pet rent. We have on-site maintenance teams, 24×7 security, free events, free fitness classes and amenity spaces should you want a change of scene. We also offer flexible tenancies and a residents'-only break clause, so you're in control right from the start.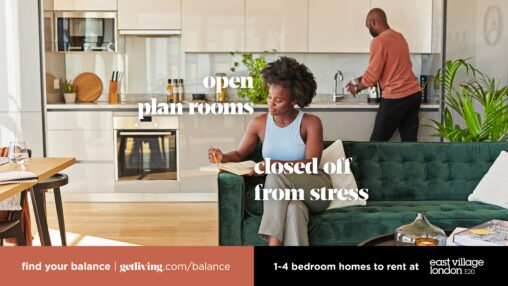 No matter what you're after as a renter, Get Living is here to facilitate a better living experience and we're serious about it.
So, what's holding you back? Find your balance with Get Living.