Moving to Manchester from the cosmopolitan capital of London was a leap of faith, but it turned out to be one of the best decisions I've ever made.
Having grown up in South London, and then rented in both North and West London, I made the move to Manchester in 2017 seeking a more affordable apartment to rent on my own, without giving up access to the type of fine dining restaurants, coffee shops, co-working spaces and art galleries I was accustomed to.
Why move to Manchester?
Manchester is often referred to as the "Capital of the North", and for good reason. The city boasts a rich industrial history and is renowned for its music and football, which has given rise to a thriving cultural scene and a welcoming community. It really is true when they say people are friendlier in the North. I first visited the city because of my love for Manchester United, but it was Mancunians who really sold it to me as a place to live!
The city boasts a diverse job market, with thriving sectors in media, creative, fashion, and technology. Major companies like BBC, ITV and Boohoo have established a strong presence here, offering exciting career opportunities. In 2022, a study found that Manchester was the 'happiest' UK city to work in.*
Moving from London to Manchester, I've certainly found there to be a better work-life balance in the city, offering a quality of life that rivals, and in many ways surpasses, London.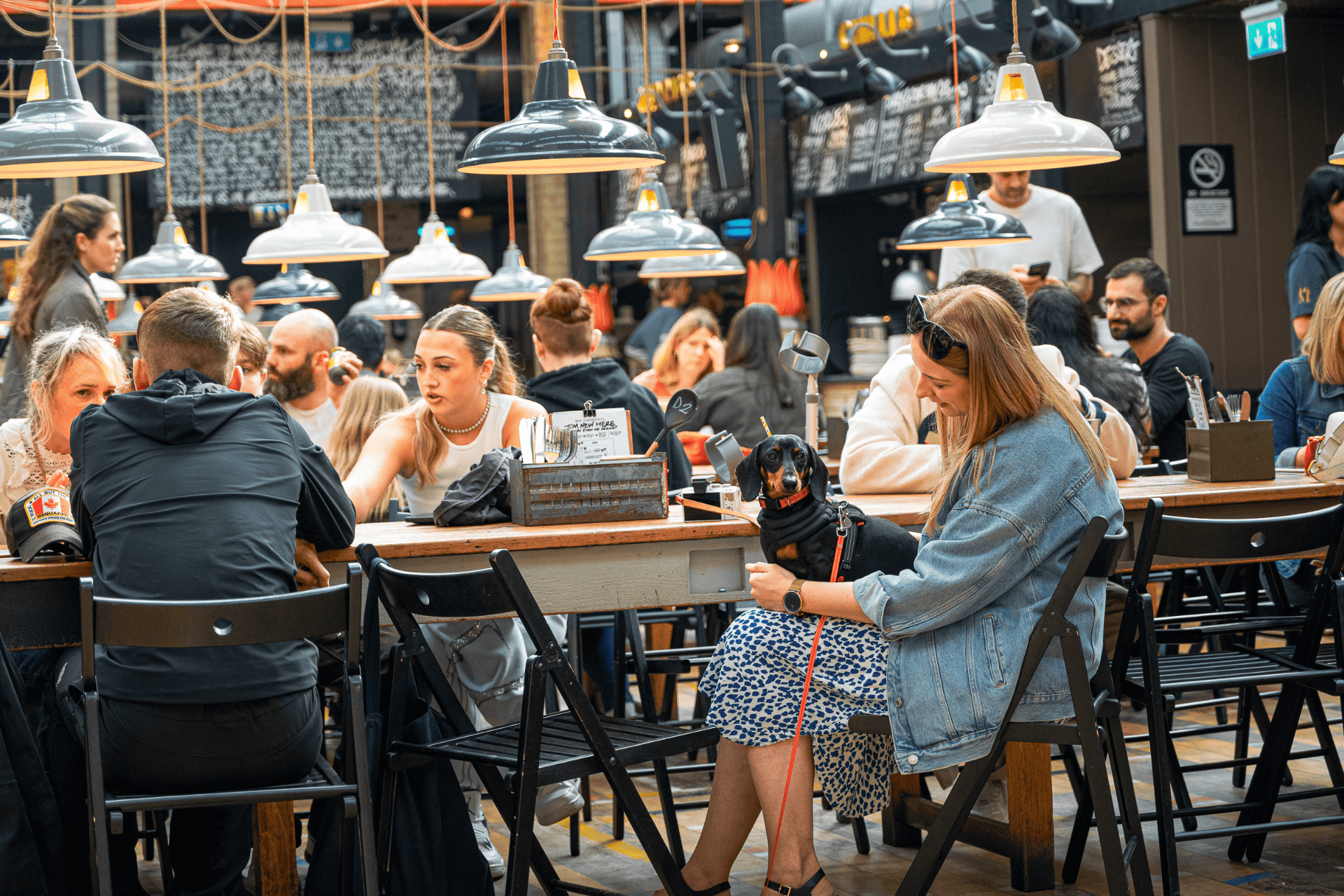 Mackie Mayor's – a listed market building reimagined as a food hall – is one of the city's most popular casual dining spots
Living in Manchester: Is Manchester a good place to live?
As a compact city, Manchester is extremely walkable and easy to navigate. There are also plenty of easily accessible green spaces, including Heaton Park and Fletcher Moss Botanical Garden, and miles of canal-side walkways for leisurely strolls and relaxation.
Manchester is a city where you are truly encouraged to be yourself. The iconic Gay Village is a testament to the city's inclusivity and diversity, while the recently opened Factory International at Aviva Studios, a state-of-the-art arts and entertainment venue, has quickly become a world class cultural hub. As a barometer of all things 'creative and cool', it's also worth noting that Soho House will be coming to Manchester in late 2023.
If – like me and countless other Londoners – you don't drive, there's no need to worry. The city boasts an efficient public transport system, including the Bee Network buses, free buses within the city centre and trams. There are multiple train stations making day trips to Liverpool, Leeds, Sheffield and the Lake District all within reach, as well as National Rail connections to London, Glasgow and beyond. Salford's e-scooter trial with Lime also provides another convenient and eco-friendly mode of transportation, and has just been extended until May 2024.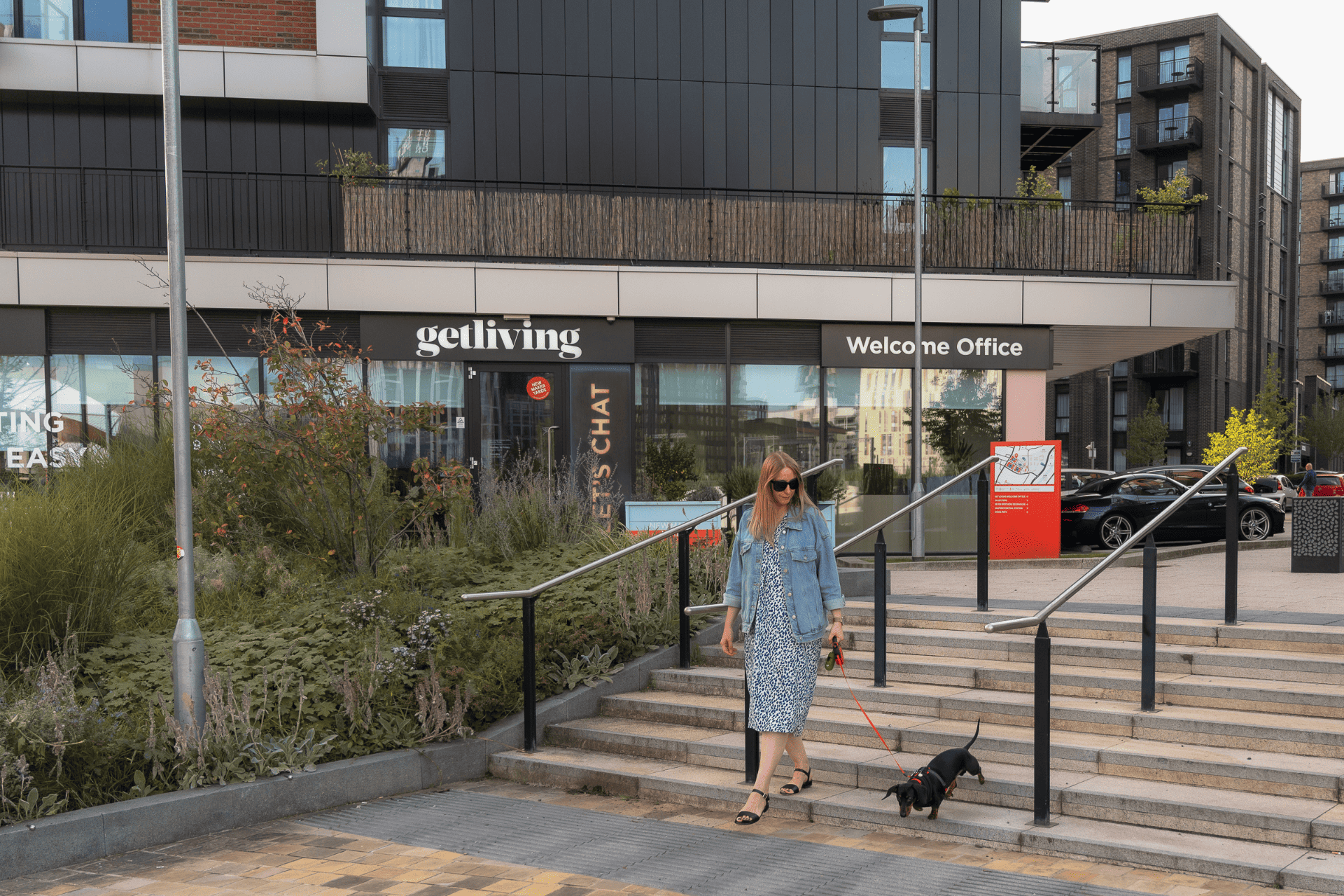 Kate and Paco (the dachshund) explore Get Living's New Maker Yards neighbourhood in between Salford and Manchester city centres
Best places to live in Manchester
While London is notorious for its super competitive housing market, I've found that renting in Manchester offers much more affordable and accessible options, particularly for solo renters and couples.
Ancoats, a former industrial hub, has transformed in the past five years into a trendy neighbourhood with bustling canalside bars and the best bakery in town (Pollen), while the neighbouring Northern Quarter boasts a bohemian atmosphere, known for its independent shops, eclectic nightlife and creative energy. Both have featured in Time Out's coolest neighbourhoods in the world in recent years.
If you're looking for a connection to nature, Castlefield offers a peaceful waterfront retreat in the heart of the city while, further out but easily accessible by tram, Didsbury and Chorlton are both leafy suburbs boasting excellent schools and a laid-back, community-oriented vibe, with a diverse range of eateries, parks and quirky shops.
But personally, I've always opted to live on the outskirts of the city centre, where you can find newer, purpose-built neighbourhoods, such as New Maker Yards in Salford. Combining stylish and sustainably built apartments with excellent on-site amenities and a proximity to the city centre, the thriving canal-side neighbourhood is designed not just for residents but for everyone, placing community at its core. There are two co-working spaces, cosy coffee shop 92 Degrees and a local family-run beer house Seven Brothers where, one day, everyone will know your name.
If you're considering moving to Manchester, don't hesitate—I truly believe this wonderful city has everything you need to make it your new home! Need a little extra convincing? Check out our insider's guide to Manchester and Salford to discover more…