The Christmas trees are coming – and they've got a special message
In 2020 at our Manchester neighbourhood, New Maker Yards, we've worked closely with the brilliant mental health charity Mind in Salford to bring you a 25ft beauty of a tree, decorated with positive affirmations and self-care reminders for everyone who lays eyes on it.
Residents and visitors are encouraged to take home the messages tied to railings around the tree, that contain information of the support services available from Mind in Salford.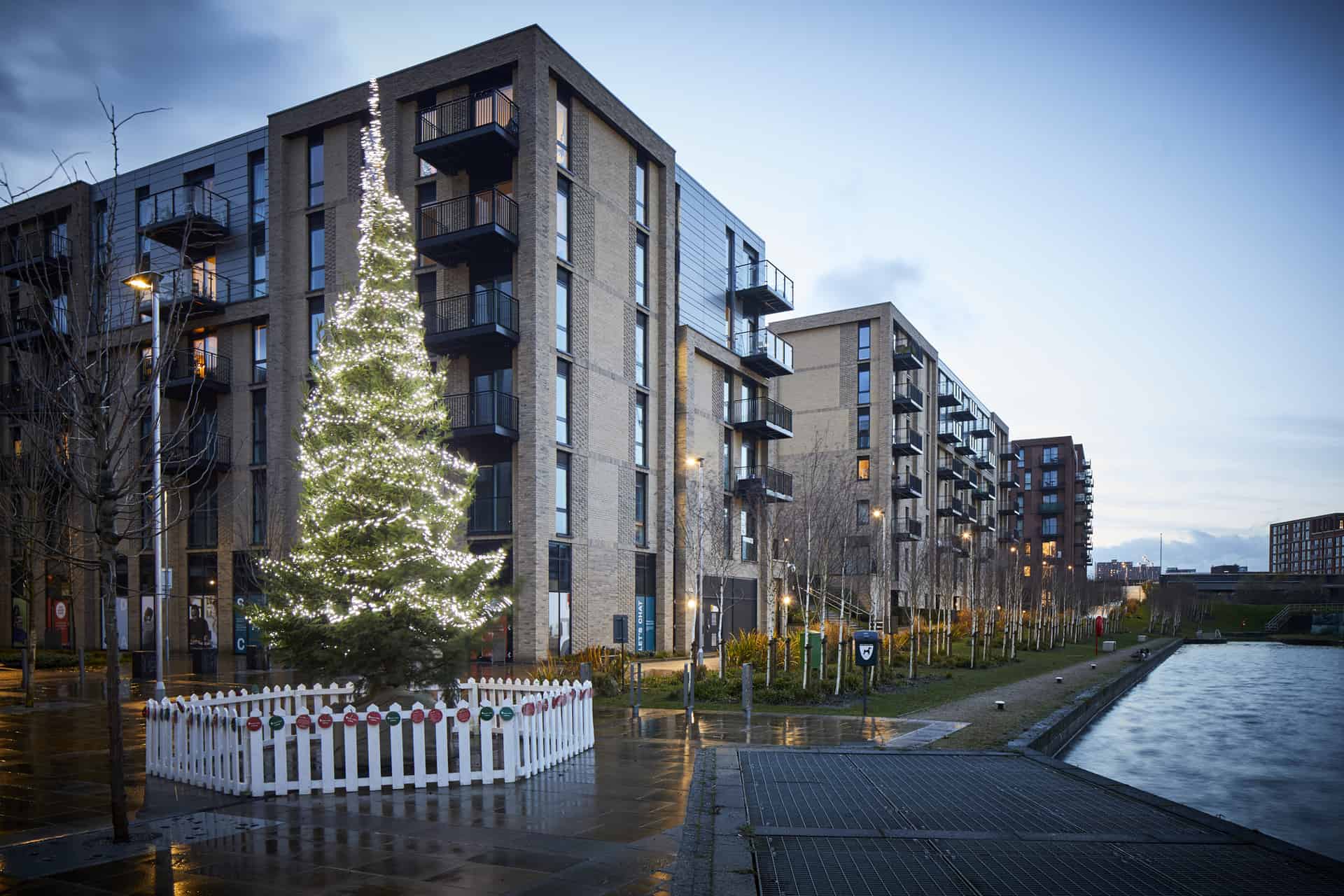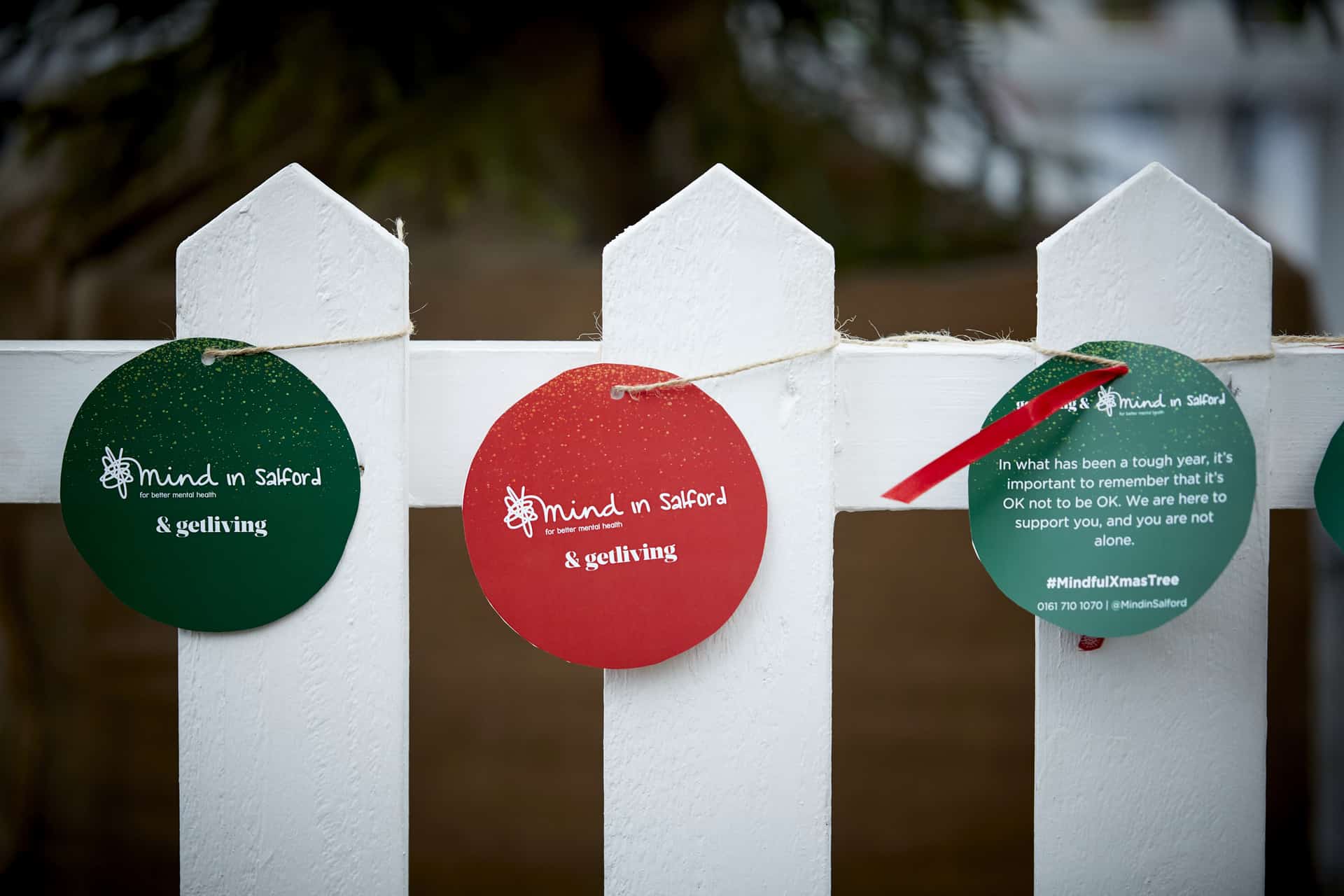 Support network
It's been a weird year for us all. There's been a great focus on our mental health across the media as we've all had to navigate a 'new-normal'. Our fabulous tree hopes to signify the support that we want to give to all of our residents and beyond, always and especially as the year comes to a close and we all take stock. Our tree and our initiatives aim to lift spirit and offer help to anyone and everyone who may be struggling with feelings of anxiety and loneliness this Christmas.
Facts
According to research carried out by Mind this year, 60% of adults said that their mental health worsened during the initial lockdown earlier in the year. This has affected many people without any prior experience of poor mental health, and as a result more people have reached out to local services for support.
As the country faces further uncertainty over restrictions this Christmas, Mind in Salford expect these figures to continue to rise.
Look after each other
Naomi Evans, Strategic Communications Lead at Mind in Salford said: "Current events have made this year harder than others for many people. As we approach the festive period and people look forward to their Christmas plans, it is easy to forget those of us who will be spending time alone and perhaps away from their family for the first time.
"More than ever we need to look after our friends, family and neighbours and we hope that an encouraging message of support from the Mindful Christmas Tree at New Maker Yards will help people access the resources available and provide a message of hope for the end of this year."
Together we are stronger
Mind in Salford is now an official Get Living charity partner, nominated by the New Maker Yards residents, since then, £5,000 has been donated to the charity and we continue to work with the charity to raise awareness of the brilliant work that Mind do in Salford and nationwide, giving our residents and their friends and families the support they might need.
Stay connected
Kim Quickfall, General Manager at New Maker Yards said: "Our Mindful Christmas Tree has been installed as part of our ongoing relationship with Mind to help bring some festive cheer to those who will need it most.
"As tough as this year has been, it's really shone a light on the strong sense of community spirit within New Maker Yards. Through virtual events and dog-walking meet ups, residents have found new ways to stay connected and our team has been here to support them in the neighbourhood throughout. To help lift spirits in lockdown, our team of eight hand packed and delivered care packages to all 250 homes and next week will be delivering care 'stockings', including 'Mindful' baubles, for residents to decorate their homes this Christmas.
"We're delighted that these small but significant acts of good-neighbourliness were recognised at our industry awards [UKAA BTR Festival] when we won 'Team of the Year' last month.
"Through partnering with Mind we wanted to extend support to anyone who feels alone and encourage them to visit our tree on Lockgate Square and take a message home. Mind in Salford provides vital services for those who need help and we are proud to have supported them throughout 2020."
Hope, love & charity
As part of Get Living's annual charity initiative for 2020 we are also donating a total of £5,750 to foodbank charities close to all of our residential areas: Newham Foodbank, Salford Foodbank and Southwark Foodbank.
Take care – and lookout for each other.
If you feel like you need support, it's good to talk.
MIND: 0300 123 3393.