Plant, from a selection at House of Kato. Anthony Burrill print, Material Gallery. Vintage Anglepoise lamp, from a selection at Etsy. Chair, from a selection at Ormston Saint.

Whatever type of space you live in and/or with whom, it's imperative to carve yourself out a little corner or space to work in. Laying on the floor/sofa/bed is not conducive to productivity, nor will it do your posture any favours.
Whether you've got a spare room, or you'll be working on the edge of the dining table/kitchen counter, make sure you're sitting correctly.
Your screen should be set up on a surface straight ahead of you, alleviated slightly with a stand or books to avoid any over-stretching or shoulder destroying slouching. Your chair should be firm, sturdy and provide adequate back support. Remember the advice a diligent office manager once bestowed upon you, and if you don't check out the NHS' advice to setting up desk.
Ensure you have the right amount of light, natural light will energise while early birds / night owls should look at handy lamps, to avoid squinting in the dark.
A tidy desk and workspace will help you focus on the task at hand and prevent unnecessary distractions. Dedicate a drawer or a box you can slip all of your bits and bob away – the unsightly paperwork, 22 charger cables – and pack everything away at night to reclaim your living space and to help you start fresh the next day.
If you do have some spare cash, why not take this opportunity to invest in some forever pieces that will bring you joy every time you sit at them. We're swooning over Forest London and OOW Furniture's Mid-Century desk game. While the and the artful notebooks and prints at Material Gallery add the perfect final touches.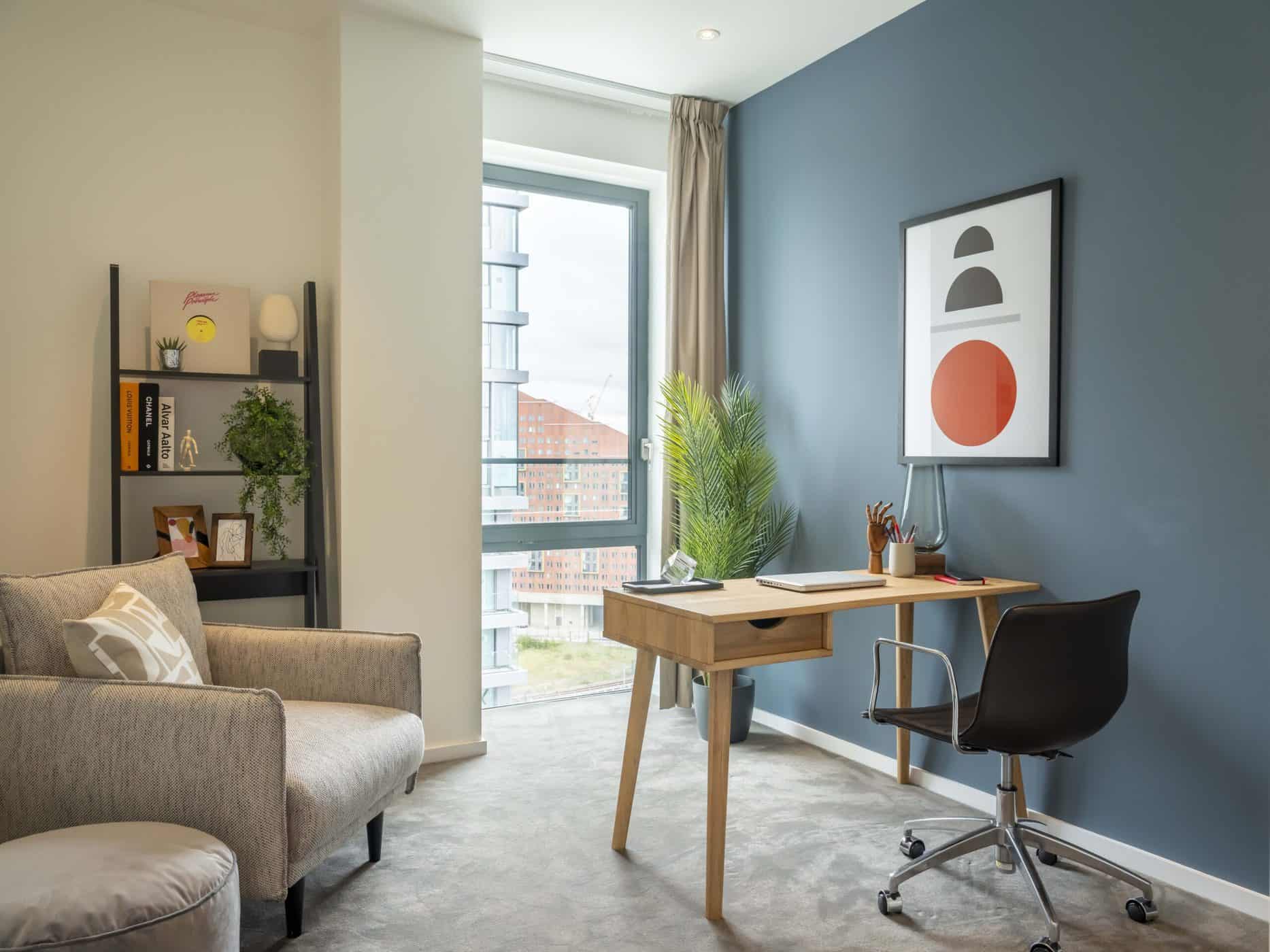 If you're on the hunt for a place with a home office set up, here's where Get Living can help. Get in touch to find out what homes have spare rooms ready for you to create your own inspiring WFH space – just like this. Call 020 3811 0714 or email [email protected].