Rebecca and Alberto Rosmini, the master-bakers behind Signorelli
Rebecca and her partner Alberto are the powerhouses that make up Signorelli. Their three standout sites in E20 are proof that dreams and a whole lot of hard work can be simply delicious…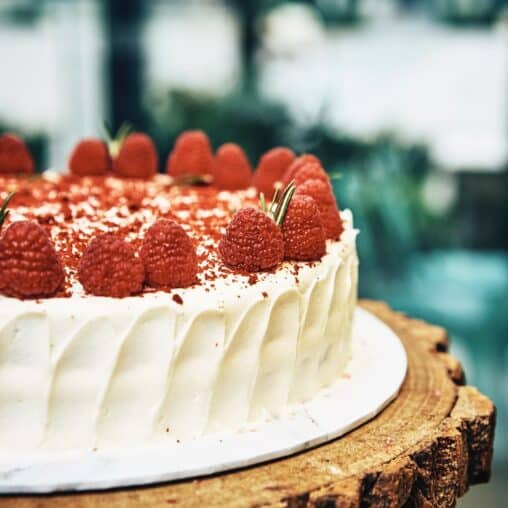 The dream
It all started in 2013 when Alberto and I met at a wedding – he's from Lingua in Italy and after disappearing for a 6-month stint in South America, where he was learning to be an Agronomist, he came to London. I'd just launched a property business, so I had to be in the UK.
While Alberto was looking for a job in Agriculture, he started making bread at home. Cooking has always been a passion of his, he's an only child with an Italian mum and that's always been their way to bond and communicate.
We went on holiday and we met this guy who had a chain of 100-year old Pasticceria in Italy and he was keen to set up in London. So, when we got home Alberto baked – bread, cakes, he learnt how to make shortcrust and I started to look for sites that might work. We lived in a block at the time and the hallways always smelt of baking, we had so much bread we didn't know what to do with it, so we gave it to neighbours and we started doing pop-up picnics in the parks to see what people thought.
We presented our ideas to our Italian friend. He wanted to do replicate exactly what he was doing in Italy, but we knew the market wasn't right for that in London. So, it wasn't going to work.
Alberto was deflated. He'd put everything into this idea, he'd stopped job hunting.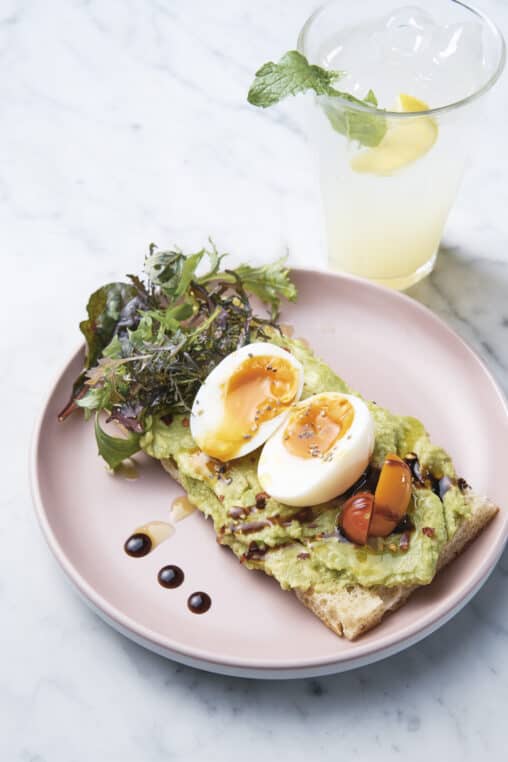 First steps
I'd been invited to see East Village, the former Athletes' Village for the 2012 Olympics primed for a new East London community, Alberto came with me and he was instantly drawn to the big green spaces –  he missed his outside life in Italy, cycling on the coast and to date he found London too busy and congested in comparison.  We walked down Victory parade and he said, 'WE SHOULD HAVE OUR BAKERY HERE!' a shop front on the water, south facing.
The development in East Village was new and there wasn't much footfall so we decided it would have to be predominantly a catering company with a bit of front of house for brand imaging. I sent Alberto on his own to pitch our idea to the Get Living board, his passion for food and Italian culture is infectious, whereas I'm more of a pragmatic numbers' person. Despite the fact we had no track record – Get Living had faith and they said yes.
So, we started on this journey, quite naively, with very little food and beverage experience, apart from a few summer jobs we'd both had.
Alberto's mum had warned us how hard it would be – how we'd be tied to the business every evening and weekend – but we were in love and that was all that mattered to us.
And so, it begins
The night before we opened, I said, 'wouldn't it be nice if we did brunches?' … you know, avo-toast or scrambled eggs? Fresh food that we can add an Italian twist to. So, we spent the night watching YouTube videos of all the ways to make the best scrambled eggs.
Our first day of business was a Tuesday (August 2015) and there was a tube strike, but we made £160 in coffee and cakes and I felt like we'd won. That Saturday, we asked three friends to help out, but we were busier than we could have ever imagined, we had people queuing for an hour for breakfast! It was then that we realised we'd need to completely rethink our lean business plan to run a bakery and learn how to run a restaurant.
It was tough. We worked 18-hour days, we'd spend over two hours cleaning after closing and then Alberto would bake from midnight until the morning. We didn't have suppliers at the start so Alberto would go to Spitalfields market in our little car at midnight and buy all of our fruit and veg, and this became our existence.
Developing recipes every day, producing artisan products, juggling accounts, building relationships with the right suppliers, taking on staff, keeping our heads above water.
We've employed over 100 people over the last five years but in the last 12 months we've worked with the same 25 people. Signorelli is a family business and it's so important to have the right people working with us, people who share our passions and believe in what we're doing, understand our culture and the desire to deliver the best product and service possible.
The relationship between our staff and our customers is a joy to see – staff know kids by name, coffees are made before customers are ready to – there are real friendships.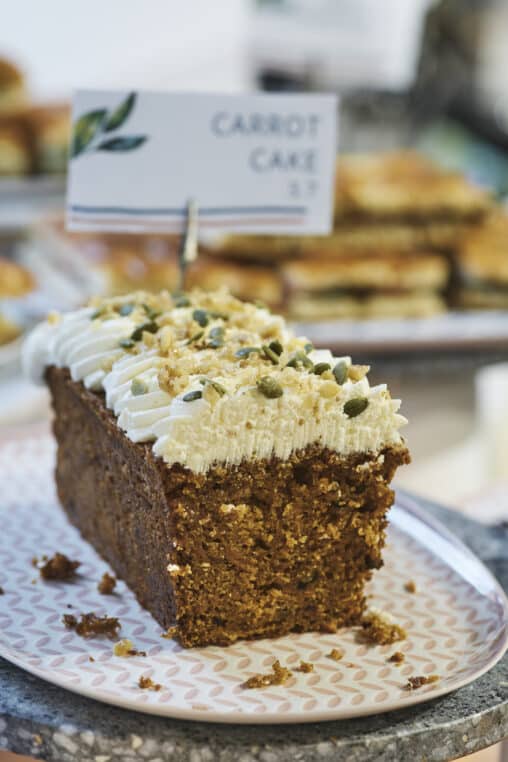 Making it work
When our son was born, we realised how important our staff were and how we needed to ensure the business could run by itself. We needed to be the north star.
We're part of the business every single day but we've carved out a structure that works for us. Every morning Alberto comes home from baking and we have breakfast as a family – Focaccia, naturally. I'll take our son to nursery and Alberto will go to bed.
I spend the day visiting the bakeries, having meetings with managers and staff, finding out what's working and what isn't, checking room temperature, music, bathrooms. Fussing over displays, flowers and plants. For us, it's like having your friends over to your home, you want everything to be lovely. It's our baby.
Then there's endless supplier lists, renegotiating costs, looking at hundreds of products. Recipes are always adapting so products are always changing too. I collect our son at 5pm and then it's dinner and bedtime stories.
In the evening Alberto and I work through the finances. We try to talk for half an hour about things that don't concern the business and then he goes off to bake. I always wake up to pictures of cakes and focaccia on my phone!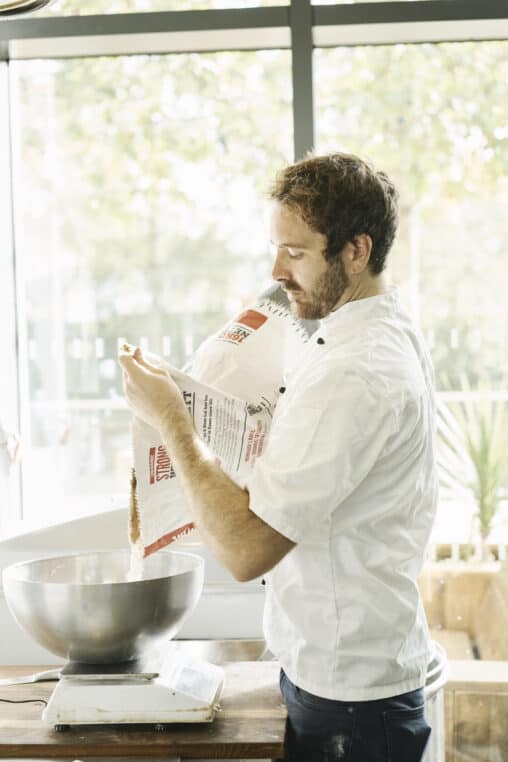 Philosophy
We make everything from scratch, we know what's in everything we serve. If I can't find an ingredient in my pantry at home – if it's something obscure, overly processed, or something we wouldn't feed to our son – we shouldn't be using it. Finding a good Italian pastry chef was really important to us – nothing is too sweet or too buttery.
Simplicity is key. We believe in great natural produce, treating them with care and combining them so that they explode in your mouth. Our recipes have developed over the years, we literally work through the night to deliver the food the serve and we're constantly trying to push our ideas forward. You have to keep your core values but in the London market you have to constantly evolve and that's exciting.
We're always working to reduce the supply chain, minimise food waste and use organic where it's relevant.
Everything we make we make sure we can repurpose, there is no waste and complete respect, which is something I have learnt from Alberto's mum – whatever she has leftover she will reinvent and transform so it has a second life.
Leftover croissants become almond croissants, that become puddings. Bread becomes croutons – or puddings! And we use companies like Too Good To Go to pick up anything we know we won't get through. It's a common-sense approach and that's the beauty of having a smaller family run business.
We buy all of our ham – sausage – cheese from Appetite because the quality is second to none. Our fruit and veg still comes from Spitalfields, but through a supplier now. Our coffee is from The Roasting, a one-man-band in Pimlico, it's an Italian roast developed around London's hard water and he's developed a blend specifically for us. Every time we've had a new starter he comes and trains them and shares his passion.
Our wine comes from independent producers, Theatre of Wine in Leyton, choose small brands that have a great story, focusing on organic bio-dynamic wines. They curate our wine lists for us and make sure our staff know everything they need to know about the wines we serve, they also work with our baristas to curate our seasonally changing cocktail list.

Dealing with stress
Learning to compartmentalise is so important.
I create time slots in my day so I can focus with the task at hand and I'm strict with these. I won't look at my emails until I can give them my full attention.
If you let things seep in you become overwhelmed, before I did this every six weeks I'd feel utterly exhausted. Don't let people impose themselves on your time slots unless it's an absolute emergency. Some things can take their course for a bit. Sometimes that's better.
Be present in the moment that you are in.
From 5.30 – 8pm my time is fully focused on my son. When my son is in bed, I'll give myself an hour. It's important to carve time in the day for yourself. Mothers are very good at putting everyone in their family before themselves. Whether it's a yoga class or taking a bath – lock yourself away in the dark for 30 minutes, you'll be better at everything for it.
I've learnt that you don't have to be in control of everything all of the time – just deal with the things that are hitting the iceberg.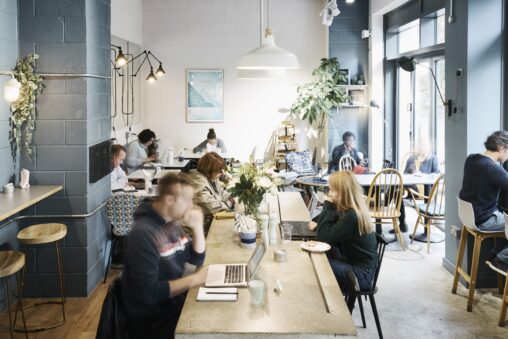 Business acumen
The biggest learning curve every day is being a better manager, giving people the chance to talk to me. Working out different personalities, working out how we can help people excel and be happy in their job. Our focus for five years has been on the customer and now it's holding on the group of people who work for us and ensuring they feel valued and happy. There's always so much we can do to make Signorelli a better business and with a stable group of people around us we can do that.
I love talking to other business owners about their ideas, I've been very lucky to share my time with lots of other business owners and CEOs; whether you've got 25 or 250,000 what you find is everyone has the same issues.
It's important to remember that you can't be everything to everyone. Try not to be a follower, create you own path, share ideas and be generous with your time. Take time to reset and be inspired by the people around you.
The biggest thing for me this year is learning to accept failure. Richard Branson has 'failed' so many times – but failure isn't failure – it's a huge learning curve. Covid-19 has taught us that too – if something comes to an end or changes, it doesn't matter because it's the start of something new, if we have to reset – we will. Don't fear these moments – I always have in the past. When you lose that fear, you can make better decisions.
We've worked our socks off – it nearly broken us both, it's a challenging journey that has tested our marriage and our mental health – it's about nurture.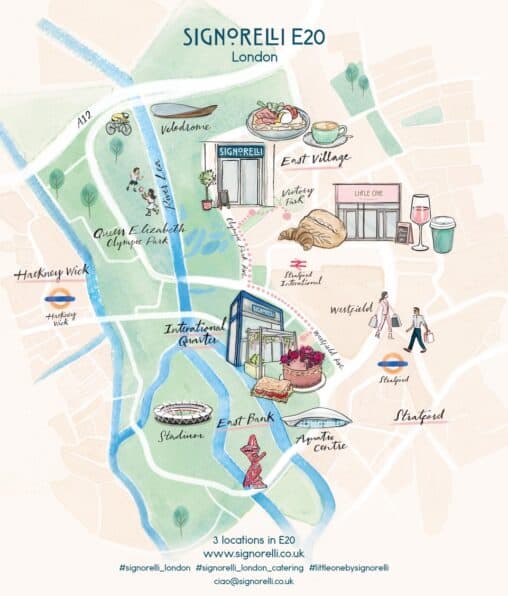 East London life
Atmosphere in East Village is utterly lovely and there are such exciting businesses in East London right now.
I love it when I speak to friends from West London and they've trekked over to East London to eat at a restaurant that they've waited a month to get a table at.
Hackney has had an explosion of incredible restaurants – small hole in the wall style places focusing on incredible local produce – Pidgin, Silo, Cornerstone in Hackney Wick, Barge East – I absolutely love the concepts. The guys who serve you have such a great understanding of the food, they care and they're working hand-in-hand with the chefs to deliver such full-rounded experiences – the detail is second to none.
It's not about the big names, it's about people creating a great product that they're passionate about and social media has allowed these people to work in an equal playing field, without major marketing budget – just hard work and passion.
Rebecca's home cook hacks
My go-to dinner dish is One Pan Pasta
When Alberto cooks, he uses every piece of equipment in the house – I seek efficiency in everything I do.
We always have Basil leaves in our freezer, so whizz these in a food blender with parmesan, garlic and pine nuts for brilliant pesto. Boil your pasta and drain it – but leave a small portion of water in your pan – replace pasta in the pan and add the pesto, mix well so pasta is covered – eat!
Tip: Always mix your sauce and pasta in the pan together so that the pasta has the chance to absorb the sauce, this is very important.
I also make a vegetable soup, which is basically me putting everything from the bottom of the fridge into a pot, cover it with water and let it simmer away for a couple of hours. If there's a bay leaf, rosemary or thyme in the house – bonus. Whizz it up, top with homemade croutons and parmesan. Homemade croutons and parmesan make everything taste great!
Tip: Always take a nice portion of the broth before you blend it to add to a delicious risotto the next day.