The RÆBURN founder has produced and designed Get Living's flagship experiential retail, cultural exhibition and creative workspace which will open to the public on Thursday 29 July
The opening marks the start of 'PREVIEW,' a six-month programme of cultural events and experiences with a focus on positive fashion and sustainable living
Over the summer the local East Village, Newham and wider London community are invited to take part in free workshops including making tote bags out of reclaimed parachutes and preparing for life on Mars.
A new creative hub in East London, The Lab E20, designed in partnership with RÆBURN, is set to open on Thursday 29 July 2021, marking the start of PREVIEW, a six-month programme of exhibitions, events and experiences to educate and inspire sustainable living.
Over the summer months, free activities will include: workshops where you can make (and take home) RÆBURN's signature parachute tote bags; a series of kids t-shirt making sessions, with fun animal print designs using organic materials; an architecture summer school run by D-Lab where students will design habitats on Mars; jewellery making, clothing repair and restore sessions, as well as a series of documentary film screenings and engaging talks. Events will be open to all but must be booked in advance – full event details below.
The Lab E20, is located on 3-4 East Park Walk at Get Living's East Village neighbourhood and will be open weekly from Thursday to Sunday, 12pm – 6pm.
The stunning space is imbued with RÆBURN's design philosophy – responsibly considered for easy assembly and disassembly. Everything used to create the space has either been remade from recycled materials or surplus artefacts, such as parachute. All fittings are recyclable for future use.
Ailish Christian-West, Director of Real Estate at Get Living, said: "We're so proud to bring The Lab E20 to the East London community. With the support of the brilliant cultural organisations, creative and social enterprises lined up for PREVIEW, we hope to bring together the curious, the creatives and the challengers – as well as inspire the next generation – to help build a more sustainable future for London's creative economy."
Christopher Raeburn, founder of RÆBURN, adds: "RÆBURN is all about craft, creativity and community; it's a momentous occasion for us to open the doors to East Village and engage with residents, locals and students through our host of interactive activities and signature RÆBURN events. Drop in for a chance to get creative, learn about circularity and get inspired – it's bound to be a special week for all of us."
Then from Thursday 5 August, architectural and sustainable design practice D-Lab, will take over the space and host workshops and activities to further inspire and cultivate creativity. D-Lab has open access spaces and educational programmes to contribute to a thriving creative hub for everyone in Newham and the surrounding boroughs.
David Kirkland, Co-Founder of D-Lab says: "We are very excited about our upcoming Summer Programme & trip to Mars and back. A unique opportunity for individuals to imagine, design and reshape our world for the benefit of people, places and our planet. D-Lab's mission is to nurture creative innovation and collaboration and we're very pleased to be bringing our programs and open access makerspace to the East Village."
July 2021 events – hosted by RÆBURN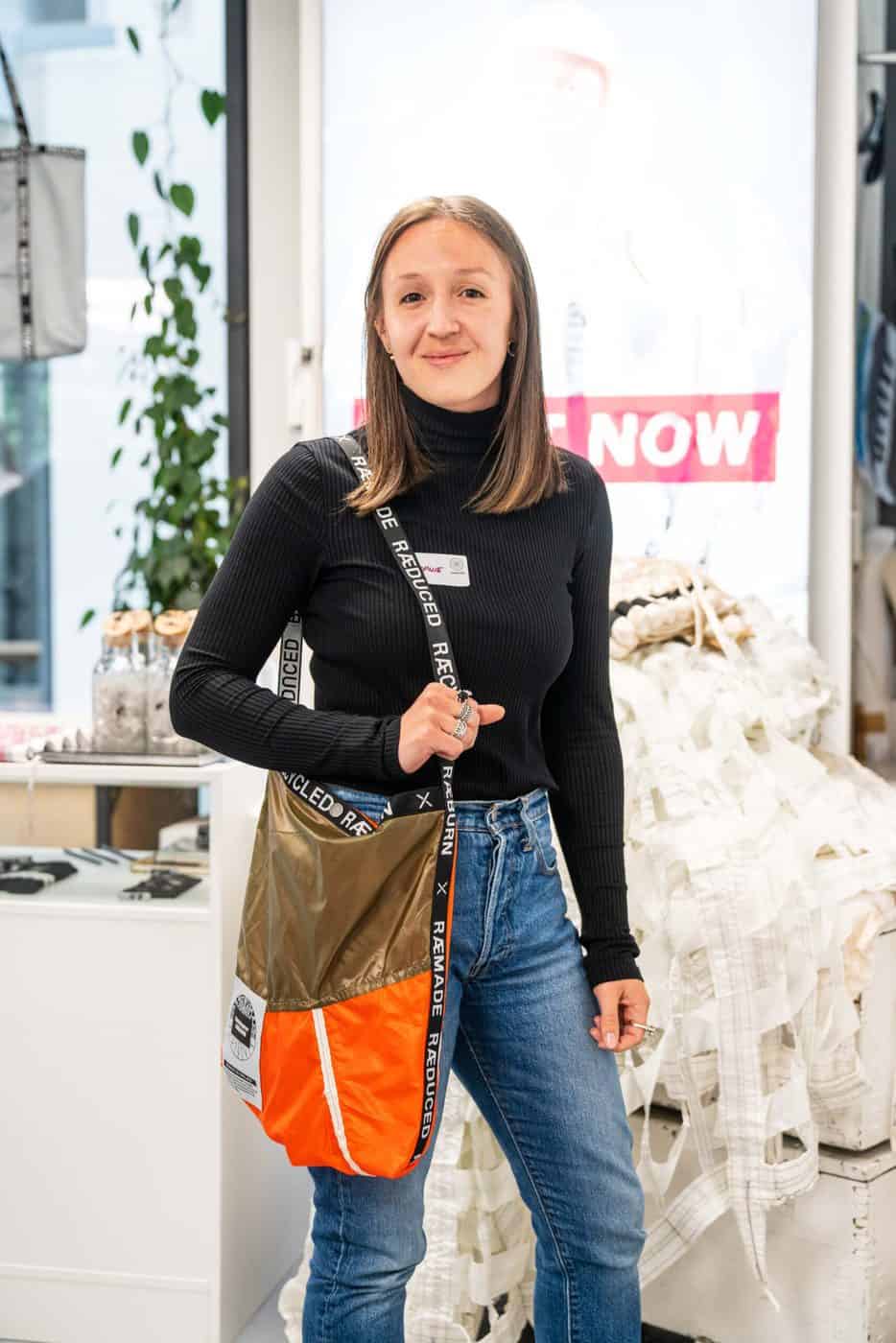 Parachute Tote Workshop: 31 July, 11am – 1pm, 3pm – 5pm
Attendees can pick and cut parachute canopies to make into a RÆMADE bag for life, as sewn by the RÆBURN team. Booking required.
Kids Custom T-Shirt Workshop: 1 Aug, 11am – 1pm
Kids can customise their own organic cotton tee with heat-pressed RÆCYCLED animal and symbol patches. Booking required.
WaterBear Film Screening: 29 July – 1 August, 12pm – 6pm
Streaming platform WaterBear will be showcasing a schedule of engaging and inspirational short films related to climate change, screening daily in the cinema room.  No booking required.