Pack it.
Don't panic, you definitely do not need a wicker basket. Think of your picnic as a portable lunch/dinner treat. Buy the most extra crisps you can find, bake some brownies if you're feeling energetic, prep a pot of fruit salad and put lots of effort into your centrepiece: the best sandwich you can imagine. Here are the three golden rules of sarnies.
A sandwich is only as good as its bread. You can go posh (check out Signorelli), you can go Warburton's toastie, but it must be fresh. Protect your lovely fluffy loaf from any soggy fillings with a protective layer of butter, mayo or mashed avo.
Choose one headline act and work your way out from there with as many accessories as possible. Mix strong condiments into mayo so they don't overwhelm, add fresh herbs, pile in a vegetable layer, if in doubt, add more cheese.
A bit of crunch is always welcome, hence crisp sandwiches being so damn good. Choose a crunchy lettuce like little gem or romaine, add a sprinkling of toasted nuts, or feel free to just use crisps. Cheddar and pickled onion Monster Munch, anyone?
Theme it.
Make your meal the interior design version of a fancy-dress party. It makes it more of an event, it distracts from less-than-perfect food presentation and it looks ace on Instagram too, of course.
Choose an appropriate colour palette, make an effort with your outfit and whack on a soundtrack for instant 'special occasion' feels. How about one of these three scenarios?
An Italian trattoria with candles in empty wine bottles, a checked tablecloth, breadsticks, bowls of parmesan. Dress for the opera.
Americana diner with loads of primary colours, ice cream sundaes, yellow mustard bottles. The more rockabilly your look, the better.
Kawaii Japanese cafe in pastel colours and every cartoon-branded foodstuff you can find. Get out the cosplay.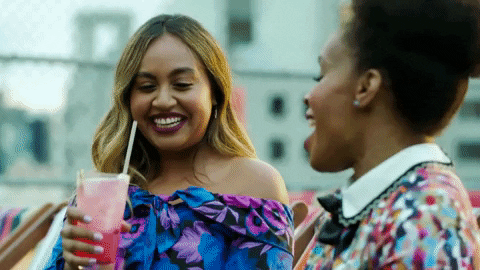 Pre-mix it.
Cocktails are more enjoyable when made in bulk so that you're not faffing with orders every five minutes. And don't feel constrained to the classics, either. The mixologist's golden ratio is two parts alcohol, one part sour, one part sweet. The sour will almost always be citrus juice and the sweet can be any cordial you like, so get creative. Keep your concoction in a jug in the fridge, ready to serve on ice, topped with something fizzy, whenever you get thirsty. If you do want to go out and about:
Carry your pre-mix in a large jam jar so that you can add ice and shake on-site. Jam jars make good stand-in shakers in general if you don't have the proper kit.
Take ice in a thermos flask if you have one; it will stay frozen for hours.
Don't neglect your garnishes! Edible flowers, sprigs of fragrant herbs and frozen fruit go a long way to making your drinks a splash more special.
DIY it.
Be the host with the most without having to wait on your pals by inviting them to help themselves to a glorious bottomless brunch spread. Take it to the park and set it out on colourful tablecloths or blankets.
Create a bagel station with a selection of spreads – mix herbs, chilli and even smoked fish into cream cheese and get guests to build their own. Serve with bottles of fizz and carafes of fruit juice – peach, lychee and blood orange are all great – for instant bellinis.
Taco time! Drape tortillas over the rails of your oven shelving and bake them on a low heat for ten minutes to create crispy taco shells that can be filled with salsa, black beans, chilli, grated cheese, avocado, and anything else you fancy. Wrap tightly in foil to transport. Serve with jugs of chilled grapefruit juice to which the bold can add tequila, making it a paloma.
An array of fillings can be stuffed into bought croissants. Cheese, caramelized onions, crispy bacon, creamed spinach and roasted tomatoes are all delicious savoury options, while those with a sweet tooth can go for Nutella, sliced banana, cherry compote and peanut butter. Serve with coffees or hot chocolate that can be laced with Baileys.