The best way to their heart is through their stomach…
Are you experiencing a munch-malaise? Un-inspired and un-spurred for another week of feeding yourself. Done with Deliveroo! FED UP with the food shop? Well don't despair. Here are some tasty ideas to spice-up eating and drinking this month.
It's time to give your brain a break and your tastebuds a treat…
You Dark Horse.
The delectable Darkhorse restaurant on Victory Parade remains firmly shut of course, BUT, the brains behind the Northern-Italian-inspired eatery (that features in Killing Eve no less) have rustled up an impressive 4-course menu for 2 for the 13-14 February. Pre order is essential.
View this post on Instagram
If you're not feeling 4-courses, OR simply have a craving rich and refined food either side of V-day, do check out their takeaway menu with all meals lovingly prepared, delivered and ready to reheat at home.
From potato gnocchi to a dreamy Darkhouse lasagne and a traditional slow cooked lamb dish – although they had us at the starters with Squid ink Arancini & saffron mayonnaise – and did we mention the fresh Burrata with roast figs and a port wine dressing?! You can order single or double portions. My, you can order as much as you like.
Support local, support your tastebuds.
When carbs are life.
Signorelli, our favourite local artisan bakers in E20, are rustling up Valentine's brunch boxes. Carby-breakfast-heaven. Croissants, bread, eggs, jam, heart cookies, and Prosecco for £45. If that isn't the perfect ingredient for a lazy Sunday morning, we don't know what is.
View this post on Instagram
They're also running an Insta-competition, where you can win said brunch box – just 'tag your lover or bestie and comment 'I love you'. Good luck!
If you've got a sweet tooth, check out their cookie gift boxes, with 4 heart shaped cookies with cute little messages, order yours here for £18.50, or collect them from their "Happiness Window".
Other delights to test, taste, gift and enjoy from Signorelli this month: Red Velvet Love Cupcakes, Ruby White Chocolate & Raspberry cookies. Italian Marble cake (vegan). Mocha Layer cake with espresso cream cheese frosting. White Chocolate & Raspberry cookies. Dark Chocolate Chip Cookies (vegan). Granola bars (vegan) AND Nutella banana toasties on sourdough focaccia!
PLUS, customers will also receive mini shortbread hearts with any hot drink ordered.
Ice Kweens, listen up!
La Gelatiera East Village are offering 2-for-1 on all small and medium cup sizes and on boxes of these beautiful Strawberry Prosecco Roses. There's also offer bespoke Valentine's gelato cakes to order.
View this post on Instagram
Get your beer goggles on.
Seven Bro7hers, New Makers Yards are hosting a virtual beer & gin tasting tour. For £50 pp, pre-order your drinks bundle which includes 3 signature beers and 3 Sis4ers gin cocktails, plus chocolate truffles. Then join Beth & Nina via Zoom on Sunday 14th February, 7-9pm to get tips on tasting.
View this post on Instagram
Something Faaaancy
So, while we all continue to mourn the restaurant, online company Dishpatch have been curating restaurant menus, prepared by the countries' most revered chefs, that are lovingly prepared then sent to your home. All you need to do is choose your poison (as it were) and then finish off the dishes at home, minimal skill required – serve – eat.
View this post on Instagram
Yes, it's more expensive with prices starting at £45 (for two), but you can get your hands-on restaurant quality food, without the need to get on that restaurant waiting list (chance would be a fine thing).
Heralded as the best restaurant packs since, like, ever by some acclaimed food-fluencers. This is like meals-on-wheels, on crack.
Order meals form St John's, Koya, Ottolenghi, Farang, Bubala, Café Murano – and many more. But do get your orders in pronto, menus are released for the next three Fridays in a row and they sell out pretty quickly.
For maximum enjoyment, why not lay your table, light some candles, put on some music and get dressed.
View this post on Instagram
While on a mad-FOOD-hunting-frenzy, (lockdown 3.0 will do that to you) we also stumbled across, The Crispin. This stylish little E1 set-up is wine-shop, grocers, food delivery and events, with chef Nazmal Hassan at the helm. Their feasting for two at home kits start at £55, for the vegetarian option, a little more for carnivores and you can add wine-pairing too. Do check out their events page while you're there.
SUPER-market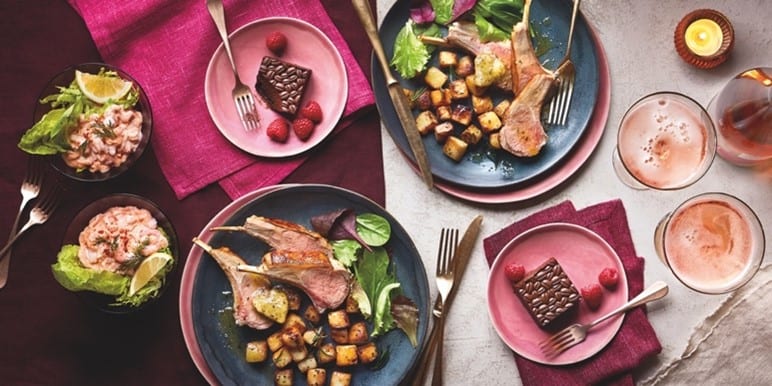 Valentine's Day wouldn't be complete without a supermarket dine-in for two offer. We've surveyed the aisles and the verdict is in… This year Waitrose have-upped-the-anti with no less than 12-main dish options; these include a rack of British grass-and-forage-fed lamb with roasted garlic and rosemary butter; steaks, a Gressingham Duck dish and Yellowfin Tuna. MMMMMM-hmm! There's a Bloody Mary Prawn Cocktail to start (nestled beautifully among 10 other choices…) and some Heston-magic on the dessert menu, including his brand-new Espresso Martini Torte. Veggie and vegan-friendly options are available. We'll be salivating in the aisles from 10-14th February.
And when you're all fed and watered…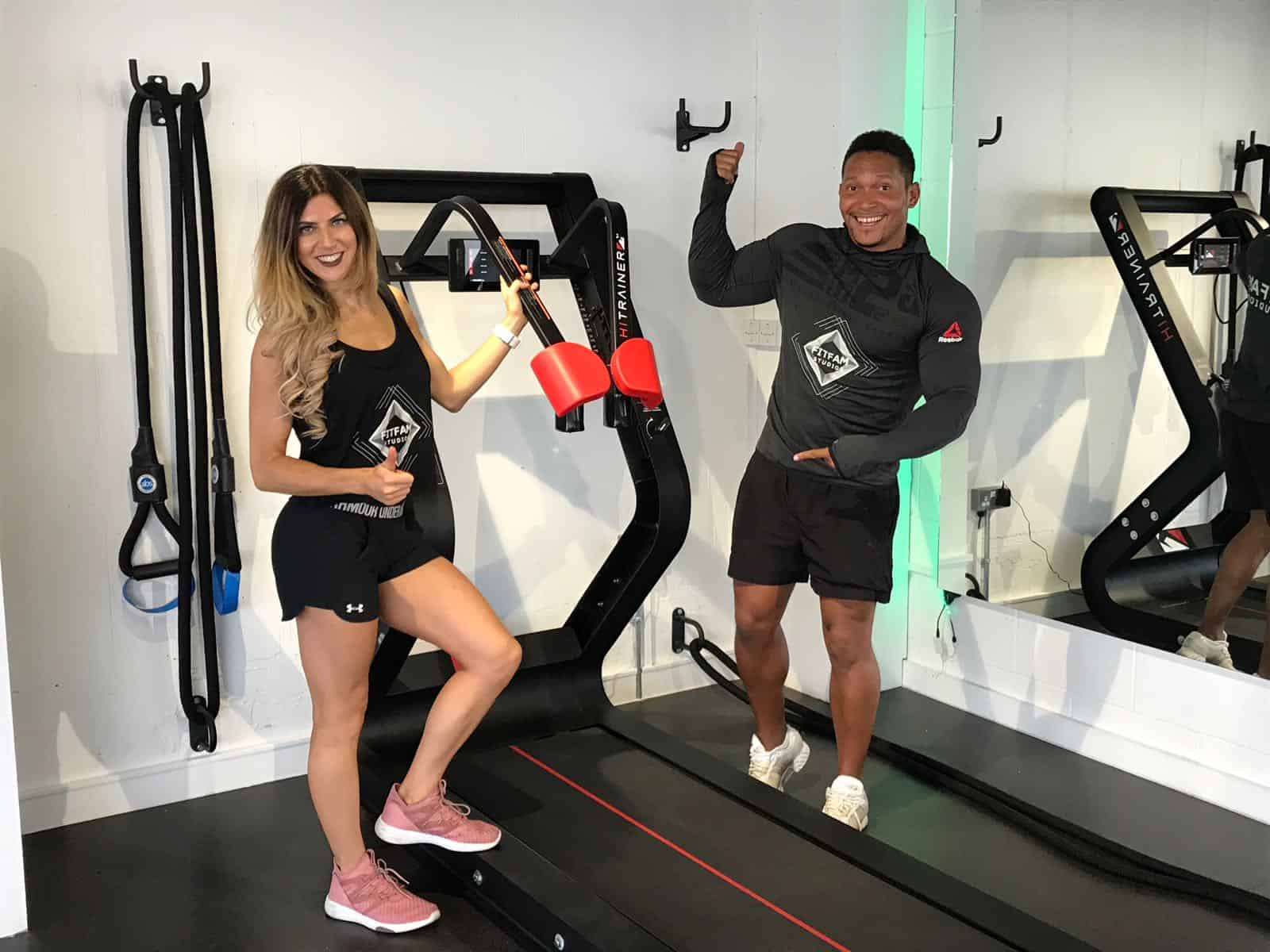 Mr & Mrs FitFam of FitFam studios are offering a 1-week couples' pass – to their high-impact virtual group sessions. So pair up with a friend/flatmate/partner and work up a sweat – £10 per couple, for one session. See their website for details.