There's a lot to learn from a seasoned athlete.
Thanks to our charity partner SportsAid, we were given access to local, Olympic gold-medalist rower, Mark Hunter, to talk about the gains and pains of pushing yourself to the absolute limits, mental health and realising you always have options.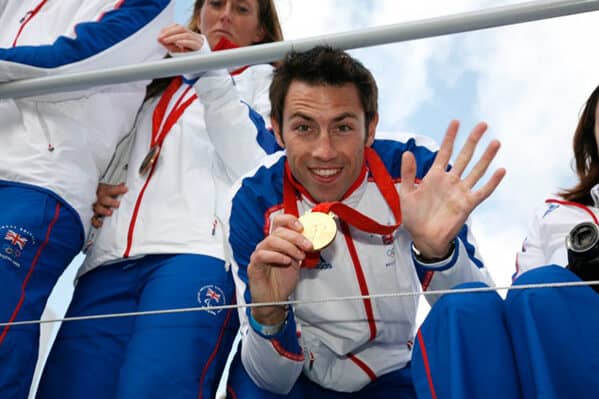 Dream Big.
In 1992, my dad was teaching kids' rowing at a local club and I went along.  That was also the summer of the '92 Olympic games in Barcelona.
I rowed every day and watched the Olympics on TV. The superhuman athletes, it completely captivated my imagination – gold medals being won, the  flags, the ceremonies. It blew my mind.
That year, the Searle brothers from the UK – Greg and Jonny, won Gold in rowing, beating another brother duo, the Italians, Carmine and Giuseppe Abbagnale, in the last few strokes of the race. I've got a brother and I couldn't stop thinking about how amazing that would be, that achievement.
But I was just a 14-year-old boy, in East London – it was  a  dream.
Goals.
I was so inspired, I continued to row, every day. I loved it; it was all I could think about. I trained hard and I got my first international jersey when I was 16. By 2003, I was rowing in the lightweight men's four, when we found out that we had qualified for the Athens Olympics (2004), I was in floods of tears. But qualifying is just the first step. Once you qualify you have to hold onto your seat for the next year in the run up to the event.
We got there. And that first experience was less than great. We came last.
That sense of all-encompassing disappointment is quite something. Everything I had dreamt about, thought about, worked for up to that point in my life – to come last!
In that moment that we lost; I wished the lake would just swallow me up.  The experience affected me hugely.
No-one spoke about 'mental health' back then, but when I came home, I didn't know what to do with myself. At 26-years-old. I'd been chasing my dreams, while all of my friends were getting jobs and earning money – setting up their lives. I felt like I had nothing. No 'job', no money. I didn't know who I was or what I was supposed to do. It made me question everything – I felt like a failure – I was at ground zero. I didn't want to row.
Facing your demons.
At the moment in your life when you feel like everything is out of control, support is a lifeline. My family and my coach were unbelievably supportive when I came home, they helped me to believe in myself again, bit by bit. I created some short-term goals to help too.
Short term goals can be anything  – doing a yoga class twice a week, getting out for a short run twice a week. These small goals give life structure and you become the driver of your life again. Structure is so important for all of us, and especially right now when nothing feels certain.
Dust off, move on.
As my confidence grew, and I got both my physical and mental strength back I decided to focus on the Beijing Olympics. It was 2008, I was training with Zac Purchase in the lightweight men's double sculls at Caversham. We had an intense training program that ran in two-week cycles, with every second Sunday off. The training is full-on, but it's a life you choose: 'To give anything that isn't your best it is sacrificing a gift' is one of my favourite quotes.
Bright lights.
Boarding a plane to Beijing with an Olympic squad, all kitted out in your 'uniforms' is quite something. That feeling, the adrenaline, the focus, drive and ambition, it's palpable. The Olympics is such an extraordinary event. On arrival, seeing the lights, the set-up, the cameras and press – the sheer magnitude of the event, it blows you away.
I couldn't go to the Opening Ceremony in Beijing because our event was in the first week, we had to rest in anticipation for racing. At an Opening Ceremony, athletes can be standing for 4-6 hours so it was a no-no for us. We watched it on the TV in our hotel. When I saw the Olympic flame alight, it felt like this was my time, we were number one in the world and I was quietly confident.
The good, the bad – and the ugly.
We won Gold in Beijing. The race went as planned, which is always good. I do remember the pain as I crossed the line – I  couldn't lift my arms to celebrate. The emotions flooded. The dream I had as a 14-year-old of standing on the podium, with a Gold medal around my neck, watching the union jack being raised with 'god save the queen' being played (I still love thinking about this).
The night after we won, I couldn't sleep, I decided to send thank you messages to all those who had helped me on my journey and thank those who had congratulated me. The day after I woke up  thinking it had all been a dream. Did we really win!?
Then we moved into the village and I got to enjoy the games from the other side, being a fan and constantly celebrating our result, going to parties, mixing with all of the athletes. You meet athletes from all over the world who are sharing this incredible experience.
When you return from the Olympics having won a Gold medal, it puts you in a unique group of individuals but as an athlete you never look at it in that context, as you've been focused on this one thing in life.
I refer to my Olympic experience as the good – Beijing, the bad, Athens and the Ugly – London.
At the 2012 London games, we were leading the whole way and lost in dying metres in front of our home crowd, it's soul destroying. You can prepare for an event physically and mentally, but you can never prepare for the emotion at the end of a performance – it can be uncontrollable and we broke down  on our post race interview with the BBC, apologising to the nation.
No regrets.
Living this life has taught me so many lessons about myself, the high, the lows, the sheer strength and ability of the human body and mind.
I've also learnt how important it is  to understand your mental health and how your mind works in dealing with stress and anxiety. One thing we're all experiencing now is our resilience capabilities.
I have travelled and lived-in different countries and met some amazing people – I met my wife Jenny in November 2008 when I was living in Los Angeles and we now live in UK with our two children, our daughter, Kaia is 3 and our newest addition, Calvin is only a few weeks old.
I'll always be sports mad – but these days I love watching. I do train but to keep fit and for my mental health – I cycle, walk, swim and row – but I don't row on water,  unless it's for a charity event. When I think of how I used to train and what I used to be capable of it seems incomprehensible – it feels like a different life.
I got a good run at being an athlete – but it can't last forever.
Looking after athletes.
I've worked with Ernst & Young for nearly three years now, the first two I was solely focused on a global programme aimed at helping sportsmen and women prepare for a life after sport, to avoid the known pitfalls.
When you're an 'athlete' and your whole identity is being an athlete you sometimes miss out on normal development, the life lessons like  'getting a job' or even realising that there are options, and good ones – outside of your chosen sport.
I help athletes, of all ages in understanding the importance of their personal development whilst in their athletes-bubble; facing the world outside of sport, helping them evolve and understand their identity, purpose and options in life. The project is always evolving and we've had some amazing organisations and people on board from all around the world.
Ernst & Young research found that 40% of athletes are bankrupt within five years of retirement, while a similar number are divorced, and two out of three surveyed admitted to mental health challenges.
When I started working on this, I got so many athletes who would tell me that they were either struggling, worried, anxious and even suicidal,  so I'm now trained as a mental health first aider with MHFA England, something I would recommend to anyone actually. There's a lot of information to digest, you're made to reflect a lot on yourself. This helped me look more closely at my own experiences  and my feelings post Athens. If you don't know what the feelings are, how can you deal with them?
Things aren't always plain sailing.
But life is good.